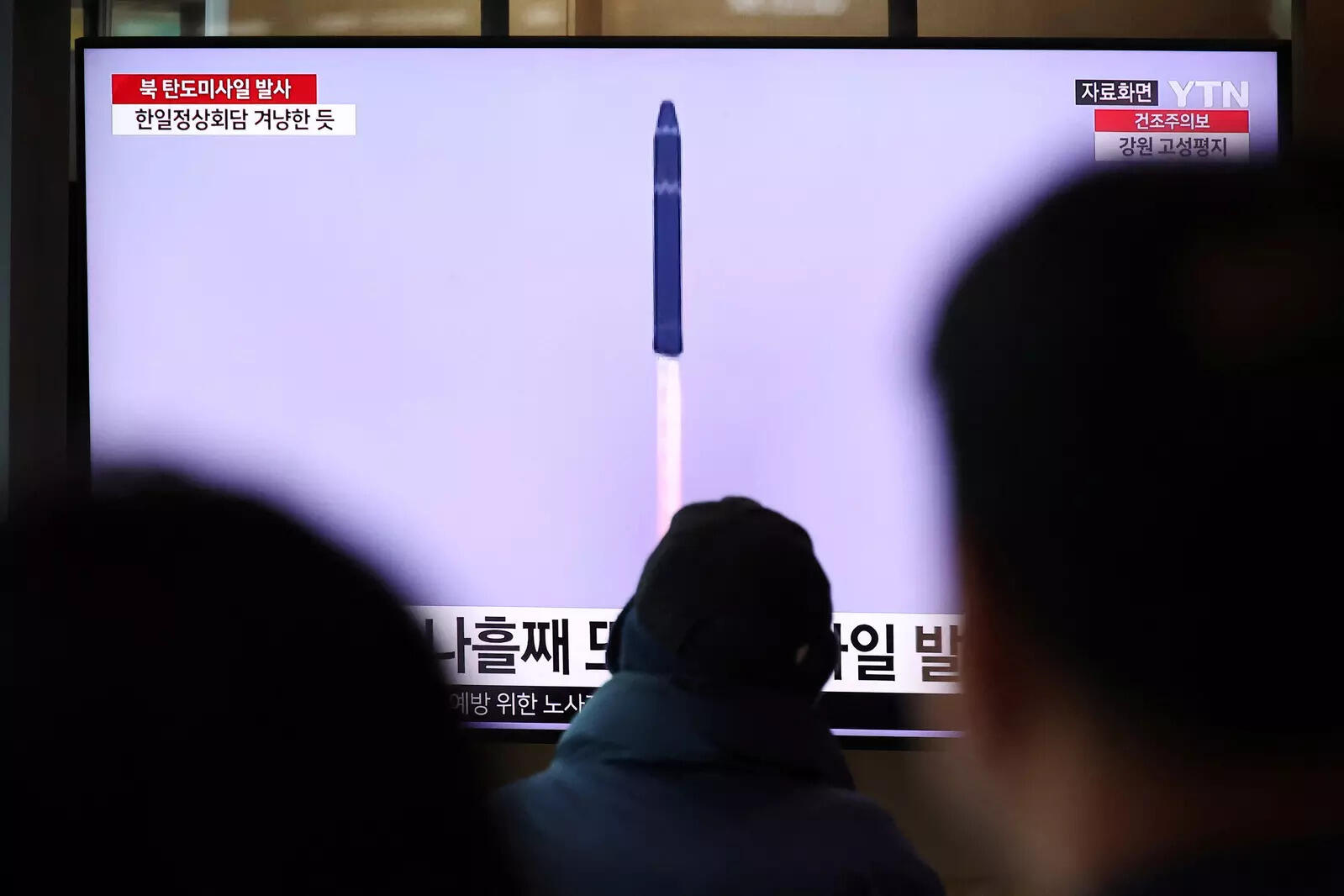 SEOUL: North Korea test-launched an intercontinental ballistic missile in a display of military might Thursday just hours before the leaders of South Korea and Japan were to meet at a Tokyo summit expected to be overshadowed by North Korean nuclear threats.
The launch, the North's first ICBM test in a month and third weapons test this week, also comes as South Korean and US troops continue joint military exercises that Pyongyang considers a rehearsal to invade.
South Korea's military said the North Korean ICBM flew toward the Korean Peninsula's eastern waters after being launched from North Korea's capital, Pyongyang, around 7.10 am waters between the Korean Peninsula and Japan.
It wasn't immediately known which ICBM was launched, but North Korea's long-range missiles are designed mainly to strike the US. Previous launches have shown North Korea's weapons have the range to reach all of the US mainland, but some foreign experts still doubt the North has mastered the technologies to build warheads small enough to be placed on those missiles and protect the warheads during atmospheric reentry.
Before heading to Tokyo for a summit with Japanese Prime Minister Fumio Kishida, South Korean President Yoon Suk Yeol said, "North Korea's reckless provocations will pay the clear price."
During an emergency security meeting on the North Korean launch, Yoon instructed the South Korean military to thoroughly proceed with its ongoing exercises with US forces, conduct some of the planned joint drills in an intensive manner and strengthen Seoul-Washington-Tokyo security cooperation, according to Yoon's office.
South Korea's Joint Chiefs of Staff said in a statement that it will maintain firm readiness based on the military's ability to "overwhelmingly" respond to any provocation by North Korea.
In Tokyo, Kishida said: "We must further strengthen cooperation among the allies and like-minded countries." He declined to comment on North Korea's possible intentions for the launch.
Japanese Defense Minister
Yasukazu Hamada
said the missile likely landed in the waters outside Japan's exclusive economic zone after about an hour-long flight. The landing site is about 250 kilometers (155 miles) off the western island of Oshimaoshima, which is close to where other North Korean ICBMs fell in recent months after test-flights.
The North's ongoing aggressive run of weapons tests has been widely expected; leader Kim Jong Un last week ordered his military to be ready to repel what he called "frantic war preparations moves" by his country's rivals, referring to large ongoing drills between the US and South Korea.
North Korea has long argued that US-South Korean military drills are proof of their hostile policies against North Korea, though Washington and Seoul say they have no intentions of invading the North. Many experts say North Korea uses its rivals' drills as a pretext to boost its nuclear capability to pressure the United States to make concessions like the relaxing of international sanctions.
After conducting a record number of missile tests last year, North Korea has extended its testing activities this year, including the Feb. 18 launch of its Hwasong-15 ICBM. After that ICBM launch, North Korea said the test was meant to further bolster its "fatal" nuclear attack capability against its rivals.
The Hwasong-15 is one of the North's three ICBMs, which all use liquid propellants that require pre-launch injections. Kim Jong has vowed to build solid-propellant missiles, which are more mobile and harder to detect before their launches because their fuels are already loaded inside.
South Korea's military said the missile was launched from Pyongyang's Sunan neighborhood, home to its international airport. It is a major testing site where the North has launched most of its ICBMs in recent years, all flown at a high angle to avoid the territory of neighbors.
Pyongyang also this week fired cruise missiles from a submarine and sent short-range ballistic missiles across its territory into its eastern sea. Last week, North Korea also fired at least six short-range ballistic missiles from a western coastal area in an exercise supervised by Kim Jong Un, an event state media described as a simulated attack on an unspecified South Korean airfield.
The ongoing US-South Korean drills that began Monday and are scheduled to continue until March 23 include computer simulations and live-fire field exercises.
The South Korean-Japan summit was arranged after Yoon's government last week took a major step toward repairing bilateral ties strained by Japan's 1910-45 colonial rule of the Korean Peninsula.
The South Korean plan — to use local funds to compensate Koreans forced into industrial slave labor during the colonial rule without contributions from Japanese companies that employed them — has met fierce domestic opposition, but it reflects Yoon's resolve to improve ties with Japan and boost Seoul- Tokyo-Washington security cooperation.
Under Kishida, Tokyo has also made a major break from its post-World War II principle of self-defense only, adopting a new national security strategy in December that includes the goals of acquiring preemptive strike capabilities and cruise missiles to counter growing threats from the North. Korea, China and Russia.
North Korea's pursuit of expanded nuclear and missile arsenals has pushed South Korea and Japan to mend their fraught ties and solidify trilateral security cooperation involving the United States. Both South Korea and Japan are within striking distance of North Korean nuclear-capable missiles.
Last October, North Korea fired an intermediate-range missile over northern Japan, forcing communities there to issue evacuation alerts and halt trains.
DISCLAIMER: I hereby declare that I do not own the rights to this music/song/Article/Art. All rights belong to the owner. No Copyright Infringement Intended.
#North #North #Korea #launches #ICBM #South #KoreaJapan #summit #Times #India